There are some great free Google products that you may want to use for your website. All you need is to set up a Google Account.
Google Analytics
Google Tag Manager
Google Business Profile
Google Search
Google Ads
Google Maps
Google Adsense
Google Drive
Learn more about what each of these products do
Analytics

Analytics provides you with detailed statistics about visitors to your website

Tag Manager

Tag Manager works with Analytics. You can set up tags on your website to monitor events (eg clicks, youtube views) that will get reported to Analytics. No code required.

Business Profile

Business Profile is geared to local businesses and provides a map of where you are located, photos, opening hours, customer reviews and so on

Search

Search monitors your website and provides you with critical information about how your website is performing.
Ads

Ads lets you advertise your business using a pay per click model. You bid on keywords that users enter into search. If they click on your displayed Ad, they go to the web page you've designated for that ad.

Maps

Allows you to embed a map on your website. If you want to customise the display, however, you'll need a Google Account and your credit card.

Adsense

Allows you to display advertising for other businesses on your website. It's often used as a passive income stream.

Drive

Drive provides free storage for your website. Many websites make use of it to store website backups.
Set up a Google Account
You can get a google account with any gmail address. If you prefer not to use gmail, you can set up a google account with any email address provided you verify it.
Create a Google Account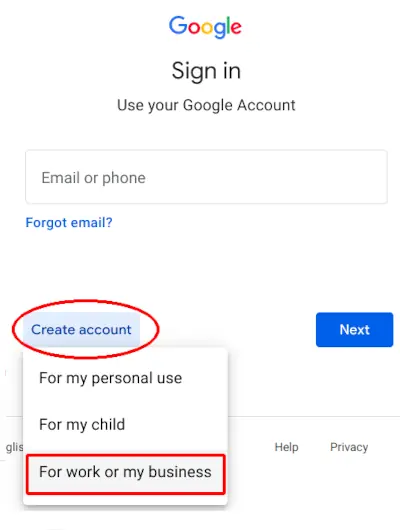 Enter Email Address
You can use a gmail or a non gmail address. If non-gmail, choose the red box shown below.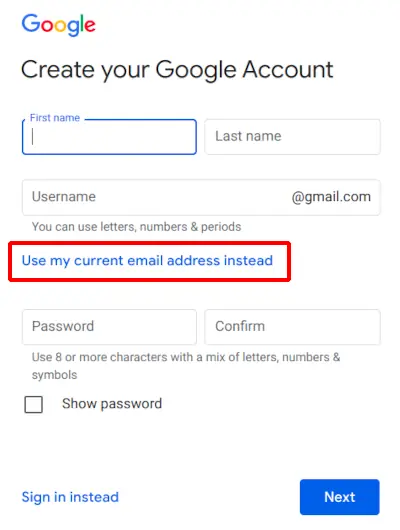 Best Practice
Set up just ONE Google Account for all the google products you want to use for your website
Ensure that you have access to the account (username/password)
DON'T get a friend/an employee/an outside firm to do this for you
DON'T think for a minute that Google can get it fixed either. If you're not the Account holder, then you're not the owner.
A Salutary Tale
Imagine that you are a website owner and you've contracted a company to do "a bit of SEO" for you. The company set up a Business Profile listing for you, among other things. Time passes and you and the company part ways. But no bother! The business listing is still there, with a few nice reviews, the opening hours and a map of how to get there. One day, you decide to change the main telephone number of the business. And that's when all hell breaks loose. You're going to call someone like me. Can you change the number on google - the number is wrong. I'm losing business. This is urgent!
And I say: do you have the login details for the account that set it up?
It's a more common scenario than you'd think. Ask yourself - do you have that access? Did you set it up? Do you know who did?
All the Google Products you use for your website/blog/online store SHOULD be linked to ONE Google Account that you have the login details for.
Some Q&A
If you have a Gmail address, you can actually use that to sign up for any google products directly and bypass creating a google account. Once you've done that, your Gmail address automatically becomes your Google Account for the product(s). If you prefer not to use gmail then go through account creation as shown above using a non-gmail address, and verify it as directed at the end of the process. After that you can use that email address to sign up for google products.
Sure! As well as having an account for your website, you could also set up a separate set of Google products for your personal use - eg for Gmail and Google docs. Each Google Account just requires a separate email address, and actually, it doesn't even have to be a gmail address.
The point is to group all your products under one email address (which is your username) and password AND for one purpose - eg your website. So if your website requires Adwords, Search and a Business Profile listing, then you'd set up these products with the SAME account (ie same email address/password).
Yes, but only if you have the user/pass and administrative rights for all the accounts concerned.
In my experience this can only work if they are willing to co-operate with you. Google takes ownership very seriously. If someone else set up your account, then they "own" the account. If they're willing to co-operate with you and Google then you can call Google regarding any of your business products and they will tell you if that's possible and what needs to be done to have the data transferred to your Google account.
You can use your email address to sign up for Google Analytics, and enter your website information. Along the way you'll be given some code to install on your website. Ask the outside company, or your tech people to install that code on your website. That way, you're tracking your statistics from your own account. No-one has the user/pass for this only you.
The outside company can install their own Google Analytics (or Tag Manager) code, also onto your website. Yes, you can run more than 1 analytics per site. Now the joy of this is that you have your statistics for life - through your own Analytics account - and if the outside company want to part ways you've lost nothing. You still have all your own results for all of time.