SEO = Search Engine Optimisation
The purpose of SEO is to make your website rank highly with Search Engines for your chosen keywords. If you're not sure what this means, read on and you'll see it's simpler than it sounds!
What do Keywords have to do with SEO?
It all begins with users typing keywords into Search Engines like Google, Bing or Yahoo to find web pages that are relevant to their search.
Searching with Keywords
People start searching by typing in keywords
People generally use more than 1 keyword when searching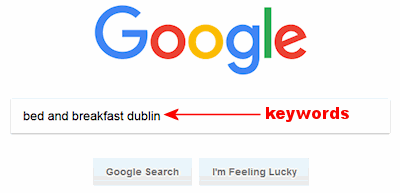 Results
Ads - come first, and are marked by the word Ad
Organic results come after ads. They are not marked.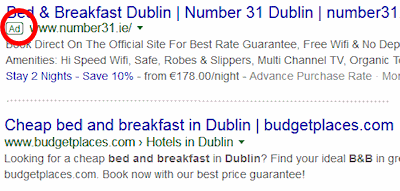 Although search engines each have their own secret algorithms (formula), what they're attempting to do is match the best possible web pages with the keywords entered by the user. In the scenario shown below, the user expects to get back web pages that are relevant for "bed and breakfast dublin", and the results that the Search Engines bring back are known as the SERPs, or Search Engine Result Pages.
For your web page to be ranked highly for the keywords bed and breakfast dublin, then at a minimum, your web page will need to contain those keywords, and related ones like B&B in order to get a ranking for it.
The first page of the SERPs lists the top ten most relevant web pages, ranked 1-10, for the keywords searched. Notice however that Ads and My Business listings come first!
Here's why SERPs and SEO matter
Less than 1 in 10 people will go on to a second page of SERPs.
This is also why the first step in SEO involves fastidious keyword research – we need to know what keywords people are using to find businesses like yours. Once we know what those keywords are, the end game is to have a page from your website ranking 1-10 for those keywords, so that you can effectively be found by people using Search Engines. (Ranked 11? Too bad. Its on the next page of the SERPs. Only 1 in 10 going that far, see?)
But there is a way to beat the system! With a Paid Listing you can go straight to the top of the first page of the results without any natural keyword rankings. With a successful (and free) My Business listing, you can also jump ahead of the organic results.
Understanding the different types of Listings in the SERPS
When you use Google to search for webpages, the SERPs that Google brings back can contain:
Paid results (Ads)
My Business results
Organic results (10 per page)
Paid Results - Ads
All the big search engines also have paid listings on their SERPs. It's how they make their money. Google's version is called Adwords. It's also based on keywords except you don't have to have an organic rank to get a paid listing. All you need is money. You bid a set amount for each keyword/keyword combination you'd like your listing to appear for and the highest bidders will be displayed on the front page of the SERPs with the word Ad. Unlike organic listings, you get to decide which webpage the user will land on if they click your ad. Which is great, because you can put up a special landing page to convert those leads and/or generate sales.
If you want to get started with adwords go to https://www.google.ie/adwords.
My Business Results - free!
Google offers an easy way to get your business listed with a map, select offers, opening times, your contact details, address, website address and customer reviews. It's completely free and could put your business on the map for free!
If you want to get started with My Business go to https://www.google.ie/business.
Organic Results - free!
If a Search Engine considers that a page on your website is particularly relevant for the keywords that the visitor used, (plus a couple of other factors like the age of your website, authority, trust, links in, links out and so on), then the Search Engine will give your most relevant webpage an organic ranking for that keyword(s). If you're ranked 1-10 for those keyword(s), then you'll appear on the first page of the SERPs. You cannot pay Google to adjust your keyword rank. You can, however, pay an SEO expert to try to increase it for your chosen keywords.
The organic ranking that any webpage gets is specific to a keyword (or keywords). Think of it as Keyword Rank. Because that's all it really is. You may have a page that ranks No.4 for the keywords bed and breakfast dublin, but only ranks 23 for the keywords B&B dublin, and doesn't rank at all for the single keyword dublin, or the single keyword ireland or the completely unrelated single keyword horses. (And don't worry, most people type in 2 or more keywords at a time. And don't worry about uppercase/lowercase, it's all really lowercase as far as Google is concerned). The ranking of pages according to keywords is solely at the discretion of the Search Engine concerned, therefore we can define SEO as "The art of achieving higher organic rankings with Search Engines for chosen keywords in your business/service category".
If you're interested in setting up Google Analytics for your website, go to https://www.google.ie/analytics. Or have a read of How to use Google's keyword tool
Some Q&A
Getting a decent (page 1 of SERPs) organic ranking is a longterm effort and getting results can be slow. However, if you're willing to get your pages optimised by a good SEO person and you arrive in positions 1-4 of the organic results for a keyword(s), you will be well-placed to receive a lot of clicks for that page for free. Organic rankings don't last forever, but they are definitely long-term (months to years) compared to a paid listing which disappears immediately you stop paying.
No it does not. Weirdly enough though, the reverse can be true. If you have a paid listing and certain keyword(s) you bid on match well with your landing page then that keyword's "quality score" goes up. That means your paid listing might cost a little less or be shown higher up than an equal bid with a lower quality score for that keyword(s).
Great question. 3 years ago we would have said 75% of users will click on organic and 25% on a paid listing. But the figures now show a substantial increase on users clicking on Ads instead of organic. We think there are a few reasons for this. One, ads are have become progressively more "subtly" marked. That might explain why there's been a 25% increase on desktop devices towards clicking on paid ads. Second, on mobile devices where we've see the greatest shift to PPC (pay per click) - about a 50% increase, probably because it's just too onerous to scroll way down to the organic listings.
The most important things to do are:
Optimise code and text on the webpages themselves to show up keywords that are relevant to your business/service and popularly used by the public AND
Get quality links from other websites (search engines read that as a sign that your pages are both popular and authoritative and possibly also relevant for a particular keyword combination. Giving other relevant websites quality links out can work too, by the way.)
Hire a decent SEO firm to help you with this. My preference is whitehats - true, they're slower to get results than blackhats, but they used tried, trusted and traditional techniques which suit the risk-averse. Black hats will get you much faster results. They use clever techniques to work through loopholes in the algorithms. Problem is of course that a technique that works today won't work tomorrow when Google catches up with it. Endgame is you have to keep paying them as they work around the shifts in the industry. There's nothing wrong with hiring blackhats, btw, and there's nothing illegal about what they do. You just need to be aware of what you're paying for and why.
Find out what keywords are most used to search for your goods/services. There's no point in calling your night class a nocturnal programme for oenophiles when it's really a wine tasting evening class. Do your keyword research.